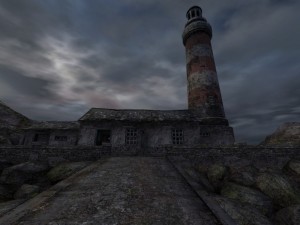 Sometimes you will feel like indulging in a Michael Bay adventure other days to keep up some culture maybe you'll pop in Fellini's 8 1/2 . Dear Esther by thechineseroom is like an art house film in game form. Chances are a good amount of the audience will walk out annoyed and some will walk out smug with witty retorts such as "oh you didn't get it did you?"This first person non shooter available now on Steam is destined to garner both of these kinds of reactions.
Dear Esther began its life as a Source mod from a project at the University of Portsmouth. Admittedly I hadn't played the original incarnation from about four years ago but it seemed to get enough attention that they got help from the Indie Fund to finance the project. Given the level of involvement from all these different areas of the industry it's a nice moment showing people coming together to help fund and publish more of the artistic sides of video games.
In Dear Esther we are the narrator, well we may be to be honest it's not really all that clear. We speak directly to Esther in a poetric prose which sounds great coming from the seemingly well trained voice actor.  Things as we have found out didn't end too well for Esther or any of the other about two people the narrator mentions. As you wander through the island you see reflections of the things that you say in the environment. There is no picking up, no "use" button, no directly interative means of the sort. In fact even your flashlight isn't controlled by you.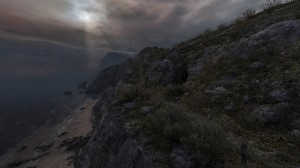 The game looks great though. Source has struggled to stay afloat as graphics have progessed the last few years but the vistas here as well the small touches along the way (weeds, stalagmites, graffiti) all come together to make journey a nice looking feast for the eyes. The score by Jessica Curry can be minimal for most of the time but when it builds its effective and keeps you engaged. Thinking that things could pop out at any moment even if they don't.
Much like To The Moon much of what happens is hard to construe as a game. This however is a step ever further than that. The story is abstract but I can say that it kept me going. I completed all of the game's four chapters in one sitting totally around 2 hours.  An experience which is walking around an island may not be for everyone. I think that  these kind of games coming out are important. As an industry it continues the escalation of video games as something diverse and beautiful. Thechineseroom did a great job using environmental storytelling much like Portal did before. If you want a calm thoughtful experience give it a try.  Those thirsty for blood will not be satisfied by the slow moving prose and exploration . There isn't too much more reason to return though I am curious if there are story bits  I have missed along the way. I can say though during my walkabout I was completely invested. There were times shadows moved in the distance, my curiosity was peaked and I was visually and audibly engrossed. Releases like this make me happy games are evolving and we need benchmarks like this along the way.
Thechineseroom online
http://thechineseroom.co.uk/